Brooke Sellas and Mark Schaefer are making their predictions on the next big advertising innovation. Do you think you can guess what they are?
This week's Marketing Companion podcast has it all – heartfelt human companies, innovative brands, and predictions for the next big advertising innovation.
Being In & Of The Community
James F. McIngvale, known as "Mattress Mack," opened up his store and his heart to the people of Houston. After the recent snowstorms devastated Texas, he generously gave locals a place to warm up, eat hot meals, and sleep in the store. It's businesses like Mattress Mack's that will have customers for life when they show their most human side.
You can read the NY Times article on Mattress Mack here.
Facebook Strikes Again
It was only a matter of time before there was more to discuss on Facebook's practices. Brooke and Mark chat about how Facebook knowingly misrepresented the performance of ads on their platform. You simply can't trust Facebook's ad data!
In Brooke's words: "Facebook, the necessary evil of marketers".
Since Brooke is deep in the trenches when it comes to metrics, she knows first hand that impressions aren't a measure to stand by. You must include other sources when trying to improve ROI on any ads. You definitely want to listen to what Brooke advises for this situation so you can adjust your practices accordingly.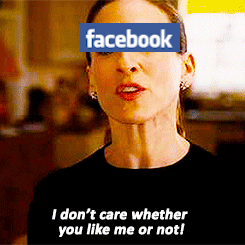 [Source: Giphy]
Advertising Innovations
The main course for this week's podcast revolves around the next big advertising innovations that will prove to be huge. Brooke and Mark have a lot to say about this topic and how it will transform brand marketing strategies going forward.
Augmented Reality
Pinterest allows you to use AR (augmented reality) to 'try on' makeup and then purchase via the pin. Pinners are 5x more likely to show purchase intent when they 'try it on' via the Pinterest app.
[Source: Pinterest Newsroom]
Warby Parker also allows you to 'try on' glasses before purchasing with the use of their app as well.
LiDAR technology is going to change the game with Instagram ads and will be in the hands of individuals and small businesses within the next 12 months. You may be surprised to hear what popular image format Mark thinks this will replace in the near future.
Gamification
Brooke discusses a $40 billion revenue prediction by 2024 in gamification. Some examples include:
Mindfulness interior decor apps. Are they really promoting mindfulness or all about e-commerce? Brooke argues the pros and cons of apps like Design Home.
Cherries Wild is a new tv game show from the Pepsi brand where contestants win money while you, the home viewer, can play along on their app as well.
Listen To Brooke & Mark
Catch up with Brooke and Mark on the latest episode of the Marketing Companion podcast for a more in-depth look at these topics. Drop-in for their insight and stay for the fun!
You can listen to the Marketing Companion podcast here. And we'd love to hear what you believe is the next big advertising innovation in the comments below! 
The following two tabs change content below.
Latest posts by Rachel Michaels (see all)