Have you been naughty or nice with your social media practices? We're shining the spotlight on the do's and don'ts that many of us fall prey to. It's a great way to assess what you've been doing and what you should be doing in the world of social media.
It's easy to sit back and reflect, but it doesn't do us much good if we don't learn from past practices. Take inventory of what you did well and expand on it for 2021. If you're on the naughty list, then it's time to evaluate where you can improve so you can redirect now.
Want to see which side of the list you're on? Then read on for a revealing look at naughty and nice social media practices.
Naughty: Lazy Content
No one wants to waste time reading lazy content. One of the naughty things we're revealing on our list is to assume that the practices you had in place earlier in the year, heck, even a month ago, are still good.
Social media and marketing are two areas that are constantly evolving. Especially during a year where a pandemic, social injustices, and a volatile election have all had active effects on how we go about business. With the constant change in the world, your brand needs to be intuitive with the wants and needs of your audience.
Do not get lazy! Continue to look for relatable and engaging content for your audience. I love this perspective from Hootsuite:
[Image: Hootsuite]
This perfectly describes how you should view your content. Don't get lazy and fall flat. Be welcoming, open, and adaptive.
Nice: Influencers To The Rescue
Speaking of welcoming, the resurgence of influencers (both micro and macro) is definitely on the nice list. They helped brands remain relevant and engaging this year when it was needed most.
If you're not sure which level of influencer suits your brand best, then you need to ask yourself a few questions:
Am I willing to spend the budget on one big name? Or, would my brand benefit from smaller, niche followings?
Do you have a good understanding of your return on investments? This article from scalefluence is helpful in explaining the importance of analyzing ROIs and conversion for the bigger picture.
How much engagement would you like to see? With smaller audiences, micro-influencers are better equipped to engage with their audience. However, a macro influencer will have a broader reach, but less engagement.
Here is an example of Revolve, using micro-influencers to promote their brand:
[Image: Revolve on Instagram]
And on a more macro-influencer stage, luggage company Away partnered with actress Rashida Jones to promote their product:
[Image: Away Luggage featuring Rashida Jones]
Do you know what else is nice? Utilizing your employees as influencers to represent your brand! Cosmetics company, Lush has featured their own employees to promote their love for the product for years:
[Image: Lush on Instagram]
One of the main takeaways from the past year is that audiences want authenticity. As this Forbes article shows, who could be more sincere to represent your brand than the team of people behind it?
Naughty: Don't Be a Grinch With Replies
You've brought in the audience with content, now don't be a Grinch with replies! Why, oh why, would you:
Leave a comment unresponded to. The nice comments deserve as much attention as the negative ones. A simple 'like' or reaction can go a long way with already positive comments.
Be robotic in your reply. Your engagement with followers should be sincere and genuine while remaining on-brand. Personalize replies by referring to them by name, or adding in an emoji. Even the most conservative replies can be human and relatable.
Not let someone know you're checking on an answer to their question and you'll BRB. Yikes! Acknowledge them, always. You don't want to be called out for being unresponsive to your followers (and they 100% will call you out). For more about how critical social media response times are, check out this recent post by Brooke Sellas here.
You don't need to be a naughty Grinch with replies on social media. Your responses can grow and cultivate loyalty from your consumers as well.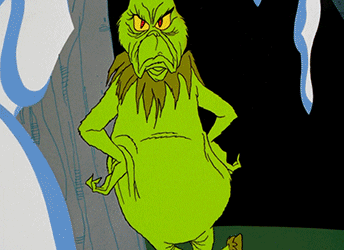 Nice: Creating Great Chatbots
A nice thing you can do is take the time to create a great chatbot. It's important to plan out your expectations for your bot. Ask yourself what your ultimate goal is. Is it to go from reactive to proactive with your customer care? If so, then you need to dig deeper:
Name the bot something memorable.
Take the time to develop conversational situations. Even Alexa and Siri can be playful when you ask them a question!
Always evaluate your bot. Think of the bot as a living breathing being. Make changes in messaging where you see fit, but always make sure conversations between the chatbot and customers aren't getting lost in translation or see a drop-off effect. The ultimate goal is to create a user-friendly experience for your customer, as well as alleviating some pressure from your Customer Care team.
This article from TechRepublic elaborates on how chatbots can help your customer care team in 2021.
Naughty: Not Listening To Your Elves
Listening should be a priority. We've said this many times (like in this recent post), but it's worth repeating. Listening to your social media elves makes all the difference.
What you gain from listening:
Insight into what consumers want.
Insight into what is and is not working for your competitors.
How engagement is on particular posts.
These three examples are just the tip of the iceberg. There are so many benefits to listening to your SMM elves. We love using the Sprout Social listening tools, but there are many benefits to listening to your SMM elves as well. Your Community Manager elves can do something as simple as updating an end of shift document to summarize the activity they saw on shift, including whether it was positive or negative. This is a great addition to the data you are already collecting.
So, why be naughty when you can be nice? Listening to your elves can improve your business!
Nice: 12 Days Of Giveaways
Now we're getting to the really nice stuff! B Squared Media wants to celebrate the nice list with a 12 Days of Giveaways contest.
We're going to spread some holiday cheer with free merch, reporting, and a chance to have your team participate in either an "Ask Me Anything" with the B2 Team or with Brooke Sellas and Mark Schaefer.
You can ENTER NOW by clicking here! We will draw a winner each day starting December 1st, 2020 through December 12th, 2020.

Wrapping Up
I think we can all agree that the year 2020 in general, gets a lump of coal. But the important thing to focus on is if you're been on the naughty or nice list with your customers.
Don't forget to create a strategy and use your 2020 playbook as a reference for when you need to pivot and adapt, as the world has this year. We hope the lessons learned in 2020 bring growth in 2021.
What social media practices make your naughty or nice list? Let us know in the comments below!
The following two tabs change content below.
Latest posts by Rachel Michaels (see all)