Despite being a rocky year, the B2 crew is committed to focusing on positivity with our top 4 things to be thankful for in 2020!
This year we've all been forced to think outside the box in terms of – well, everything, to be honest! From holidays to graduations, to how we can spend time with one another, to working remotely while balancing family life. It's been one heck of a year and we've remained resilient.
Have you stopped to take inventory of the things that you are thankful for this year? Here are our top 4 things to be thankful for in 2020.
1. We Remained Connected
If you've been staying connected to friends, family, and coworkers via Zoom, GoTo Meetings, FaceTime, or Marco Polo, then you are very thankful for this technology too. Zoom exhaustion is joked about now, but it's been a true lifesaver to stay connected in 2020.
It's probably fair to say that these online meetings have changed how we will conduct business in the future. The realization by many companies that you can just as easily hold a presentation by sharing their screen may very well save on travel expenses going forward.
B Squared Media has always prided itself on being comprised of remote workers from around the globe. So, we're no strangers to the importance of communication for calls or tools for project management, like Basecamp). Now, the rest of the business world is catching up!
2. We Shopped Online
To say that we're thankful for retail therapy is an understatement. Digital advertising is certainly important to B Squared Media, but we do like to play the role of the consumer as well.
Not only has online shopping been a blessing for digital marketers, but it's also been a blessing for our mental health too. A little retail therapy goes a long way, right?
Apparently, a good chunk of the B2 Crew is thankful for InstaCart services. It's been a service that has definitely thrived during COVID-19 shutdowns. Not only does it protect the shoppers, but it also helps keep the in-store crowds down as well, protecting their workers.
And we're pretty sure InstaCart is thankful too: it earned its first profit in April 2020, netting $10 million, and reached its 2022 goals in the fifth week of the pandemic lockdowns. Food delivery services have also been thankful for a boost during these tough times while they provide jobs and valuable service.
[Image: Second Measure]
Ordering groceries online or via an app saves a big chunk of time and decreases those last-minute impulse buys while you're waiting in line. In that same vein, any stores or restaurants offering online ordering and curbside pickup have helped to streamline our time as well as quell any misgivings about stepping into a store.
We are forever thankful for these online shopping and delivery services.  With them, our crew was able to remain productive during one of the busiest social media years.
3. We Visited Doctors Virtually
Virtual doctor appointments are something to be thankful for. It used to be that you could have virtual appointments with just dermatologists and psychiatrists. But in 2020, telemedicine has evolved to a much wider net with a bigger patient base. There are companies like Teladoc and Spruce Healthcare who connect you with the best doctor for your needs. There's also TalkSpace, an app geared towards psychiatry.
According to a report by Doctor.com, 83% of patients anticipate using virtual appointments post-COVID-19 restrictions. While telemedicine is not new, it has become more mainstream this year.
When doctor visits can be done in the comfort of your home, saving time and providing protection, that makes our list of top 4 things to be thankful for in 2020!
4. Social Media & Apps Got Us Through
We're obviously thankful for social media in 2020 because it means we've continued to work, and remained very busy bees. But it made our list of top 4 things we're thankful for because we also discovered new accounts. Here are some social media accounts and apps that brought us joy in 2020:
[Image: morganharpernichols Instagram]
Social Media Tea's Instagram account has brought our team some much-needed levity. If you know, you know!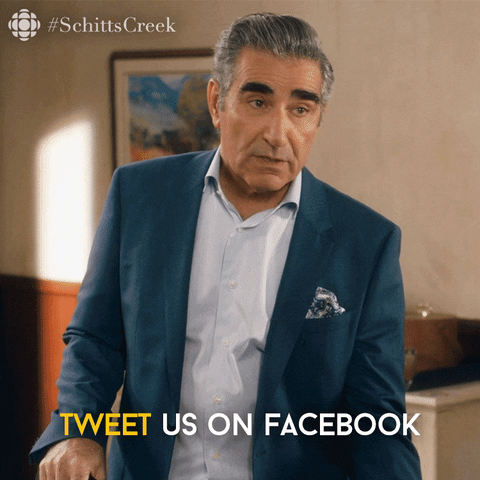 [Image: Giphy]
That's A Wrap on 2020
We have all been in this together, in some way or another. So, we'd like to end by letting you know that we are thankful for all of you, friends!
Sometimes it's hard to see past tough times, but we have thought outside the box in nearly all aspects of life this year. The connections we have made – and maintained – and our resilience is something to be thankful for.
We hope our 4 things to be thankful for in 2020 brought a smile to your face today!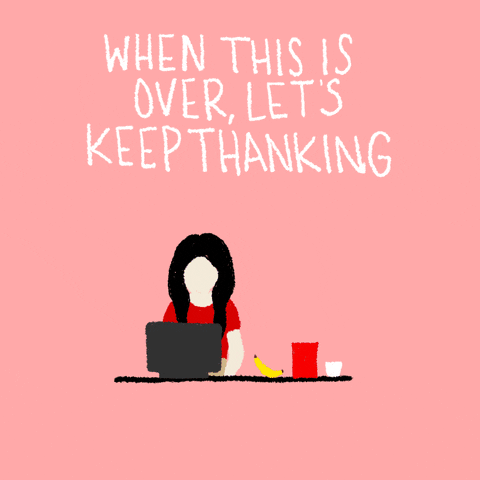 [Image: Giphy]
What are you thankful for this year? Let us know in the comments below!
The following two tabs change content below.
Latest posts by Rachel Michaels (see all)