There are a few social media roles that can turn into expectation vs. reality caricatures. In fact, we believe it's comical to be so misunderstood by the world outside of social media marketing.
If you're a social media marketing professional, then you've been the brunt of the joke for some time. In fact, you're probably ready to scream from the rooftops that you're more than your client's content calendar.
It's time to clarify the important roles that make up this growing field. Read on for our take on social media roles: expectation vs. reality.
Paid Media Ads Manager
Spoiler alert: to be a paid media advertising manager, you need to do more than produce catchy ad copy.
[Source: ICND]
Expectation: Anyone can do it.
Reality: You need an experienced marketer to even start to see positive ROI! Not just anyone can do it. You need a team of creative minds that are also extremely detail-oriented. Additionally, ads managers work with copywriters to develop the perfect story to accompany the designer's image. The tone of voice and color palettes all come into play to bring the initial idea to life. Then it's critiqued by the client, edited, and finalized.
Expectation: Set up ads and let them run. Job done!
Reality: It's so much more! There are daily check-ins to constantly optimize ads. This is not a set it and forget it task. Check out our recent blog for PPC landing page tips, by a B Squared Media Ads Manager: The Best PPC Landing Page Tips.
Expectation: Traffic = more conversions.
Reality: Traffic is great, but you need to set the ads up to maximize conversions + proper conversion tracking to get conversions.
Social Media Manager
The role of a social media manager has been the butt of so many jokes. But, the joke is on anyone who doesn't take this role seriously. Brands are finding the need for social media managers more in this digital age.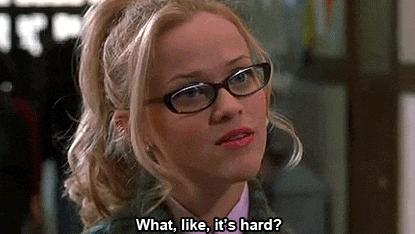 [Source: Giphy]
Expectation: "So – you just, like, tweet for brands, right?"
Reality: Social media managers create content based on a strategy. And that strategy is made from:
Customer Care and listening to what the community is saying.
Discovering the pain points of the customers and bringing that into the social messaging and education.
Taking into consideration current social media trends. This also includes being aware of pop culture and global current events.
Expectation: Social media managers talk to influencers all day.
Reality: While influencers do come into the equation, it's not in the glamorous aspect you'd think. Many are just asking for free products, and aren't actually influencer material. But what community managers and social media managers mostly get are ANGRY customers who want you to handle their issues with the brand.
Expectation: It's just scrolling through social media accounts.
Reality: Social media managers are compiling social intelligence for clients through social listening. These weekly and monthly data reports prove what works and how things are performing. SMMs work in tandem with the ads team to be sure all brand messaging and tone of voice are synced up.
[Source: LinedIn]
If you're interested in becoming a social media manager, read Sprout Social's article on 9 Skills Every Social Media Manager Must Have.
Influencers
Ah, we've made it to the Instagram-glamourous life of the influencer! There's never a more perfect example of a social media role: expectation vs. reality than influencers.
Expectation: They get paid loads of money to hold up a product, job done!
Reality: While that's the ultimate goal, there are very few who can attain that level of influencer fame and fortune. This article from Business Insider goes more into the nitty-gritty of what top influencers make.
A successful influencer has to maintain and engage with their followers, which is what the brand finds appealing in the first place.
In addition to that, they need to create worthwhile #ads. There's a lot that goes into making an Instagram-worthy ad with an influencer.
And most importantly, they need to watch how they behave and speak on social media. Brands will pull the plug on collaborations if they feel the influencer is not in line with their values. For example, Olivia Jade lost multiple deals with brands (including Sephora) after her mom's college admissions scandal.
In this case, Olivia Jade claimed to not know about the actions Lori Laughlin took to get her into UCLA. But the damage was done and brands didn't feel that was enough to keep working with her.
Expectation: If I have 1K followers, a brand would be thrilled to give me free stuff.
Reality: NOPE! Yes, the number of followers are important, but just because you have 1K, does not mean the brand will give you the time of day. Influencers spend large parts of their time reaching out to all-sized brands. Most social media managers can tell when it's a copy/paste script they give to everyone they reach out to. And just because you compliment a small or large business, don't expect them to just hand out free merch.
Earning a living as an influencer is…complicated. If you'd like to read more about what goes into it, check out this article from Influencer Marketing Hub. Bonus: if you'd like a good laugh, check out Influencers in the Wild on IG.
Bloggers
Bloggers are the quiet writers in the back. Always listening for ideas and ready to pounce on a creative piece when they get the inspiration.
Expectation: Blogging is a dying art.
Reality: Say it isn't so! Honestly, the reality is, if you're a company, you should have a blog. It's where you can show your businesses' personality while teaching your audience something along the way.
Expectation: Bloggers write whatever is on their minds.
Reality: Bloggers for brands oftentimes work as ghostwriters. When that's the case, the brand blogger will take on the tone of voice of the brand and serve as an extension of that company to its audience. They absolutely cannot say whatever is on their mind. That's only if you're writing a personal blog.
A brand blogger will work with the ads team and social media managers to get a feel for what is being discussed by the brand's audience. It's not always a random topic, there is data that drives the topic towards the blog.
Are They What You Expected?
Summing up, there are more than just funny memes for social media roles: expectation vs. reality. This field is growing year by year. And these positions all work together to grow brands.
What's a social media role where the expectation is a far cry from reality? 
The following two tabs change content below.
Latest posts by Rachel Michaels (see all)