How can we fight procrastination when we are faced with the daily monotony of remote work? The struggle to overcome this bad habit in 2020 is real.
In case you missed it, 'Fight Procrastination Day' was Sunday, September 6th. So, it seems only fitting we discuss the topic now, on September 9th, right?
Read on to see how procrastination affects us and what we can do to fight it.
Procrastination Doesn't Equal Laziness
Here's the thing when it comes to procrastination – it's a sign of something bigger.
Constant stress plays a huge role in procrastination. Therefore, it's important to identify the root of it and not confuse procrastinating with laziness.
It's so effortless for any of us to fall into an overwhelmed mindset right now.  We are surrounded by 24-hour media outlets that cover the pandemic, social injustices, and the upcoming election. In addition to that, many households are now helping their children with virtual learning on top of their own workloads.
Couple those stressors with repeating the same routine every day, and you're stuck in a thick mental fog.
TIP: Studies show that exercise and mindful meditation work. Mindfulness helps to boost your mood while resetting your mind to fight procrastination. Wake up earlier to do these mindful exercises before your day begins and you will see a change.
Please take note: if you are chronically procrastinating, then it would be wise to consult your doctor to get to the root of the cause.
It's OK to Change the Plan
When the stay at home orders began, I had lofty hopes of home-cooked family meals, tons of house projects, and reading double the books I read last year. Many of us have felt obligated to make the most of this time.
I had a good month of home-cooked meals (until take-out was approved). I squeezed in some home projects but procrastinated miserably with my favorite hobby – reading.
One thing I have personally learned during this unusual time is that I need to be kinder to myself. It's ok to not check all the things I had on my personal list. The bigger question – why am I adding more things onto a list during this hectic time?
TIP: When it comes to goals (we're not talking work, we're talking personal), choose one thing that you can accomplish. Maybe that's one hour a day to exercise, read, or heck, even take a nap. Or, maybe you want to cook three meals that week or complete a small project around the house. The point is, do not overload yourself. Do one thing a day for YOU and be kind to yourself. You're doing your best!
Prioritize and Delegate
If your to-do list feels overwhelming, it's time to reevaluate. Ask yourself these very simple, but overlooked questions:
What are my priority tasks?
What tasks can I delegate?
Too often, we complete the 'easy' tasks first and leave the harder, more challenging ones for last. Most likely out of pure procrastination and avoidance.
In addition to not prioritizing, we need to let go of our 'I need to do it all' mentality.
TIP: Do not hesitate to delegate tasks to other team members. If someone else can devote the proper time and attention to a project, then they are the ones who should take control of it. We are on the same team as our coworkers and we need that teamwork more than ever now to deliver quality work.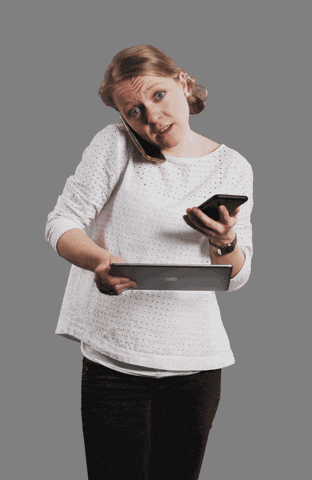 [Image: Giphy]
Distractions Enable Procrastination
If you've never worked from home, you may find yourself overwhelmed by distractions. Sure, I can get this blog written, but I can also go for a run, throw in some laundry, or watch that show I DVR'd the other day. There are so many distractions at home that keep us from completing the simplest tasks.
In an office setting, you have the distraction of coworkers to chat with, but it never really seems like you're procrastinating. Well, you are, but it's easier to have a quick chat, then get back to your desk to continue working.
These mini-breaks are necessary to increase productivity!
TIP: Keep a schedule that includes built-in time for distractions. Perhaps that means a zoom lunch date with a friend or coworkers. Or, a quick walk around the neighborhood to clear your head before setting back to your tasks. Even better – there are great programs to help you time block, just like Todoist.

[Image: Todoist]
Burnout is Legit
We've discussed it before, but burnout during this pandemic is a legitimate downward spiral. Remote burnout may be a buzz phrase as we close out 2020. Not surprisingly, a recent study showed 69% of remote workers have experienced burnout this year.
Burning out in any occupation can lead to a myriad of issues at work. Of course, those that have been fortunate enough not to lose their jobs due to the pandemic are grateful. But with that comes the pressure to keep the job. That pressure creates (more) stress, which can lead to procrastination as a coping mechanism.
TIP:  If you can, use your personal or vacation days to decompress. A little 'me time' goes a long way in resetting your mindset and gaining a fresh perspective at work and home.
Summing It All Up
We may be past Fighting Procrastination Day, but that doesn't mean we can't continue to recognize it on a daily basis. The sooner you can identify what's holding you back mentally, the more equipped you will be to fight procrastination. We're all out here doing our best in 2020, so keep up the good work!
How are you fighting procrastination? Let us know in the comments below!
The following two tabs change content below.
Latest posts by Rachel Michaels (see all)