Cybersecurity for remote workers is critical with virtually everyone working…well, virtually!
We recently spoke with the Managing Director of Cyber Security for Kroll, Gregory Michaels. It's Greg and his team's job to partner with clients to prevent, respond to and remediate risk. While Greg manages a cybersecurity team on a more global scale, we asked him for tips to protect the millions who are now working from the comfort of their home.
*Full disclosure: Greg also happens to be my husband. I felt this was the perfect time to share his expertise with you! Fun Fact: I have no idea what our WiFi password is. I will never know it, and neither will you! If you need it, he will ask for your device and type it in himself. Apparently, you can never be too safe!
Secure Your Home Network
Cybersecurity tips for remote workers start here:
Use strong passwords on systems and network devices. This may seem like a no-brainer, but if your password is YourLastName123, then we need to get that changed – STAT! Use a combination of upper- and lower-case letters, numbers, and characters. Bonus points if your password is not an actual word at all.
Use strong encryption protocols for WiFi networks such as WPA2 or WPA3. Encrypting your network scrambles the information being sent through your network, so it's unreadable. For some of us none tech geniuses, you can check with your internet provider or deemed home IT guru to see the options available to protect your network (WEP least secure to WPA2 or WPA3).
Keep systems, network devices, phones, IoT (internet of things), and routers up to date with the latest security patches. If you've been delaying that pesky system update, DO IT NOW! These updates are in place to correct any bugs and keep your information as safe as possible.
Ensure operating systems and application versions are supported versions. In other words, if your office is using Windows 7, there are no security patches because it is no longer supported. You now need to update to Windows 10 to receive all security patches going forward.
Utilize the multi-factor authentication wherever possible. If you are using a program for your company that offers multi-factor authentication – set it up now. You should be able to enter your username/password and have a verification code emailed to you. That verification code can then be entered into the program for enhanced security. We know the extra step can be a pain, but did I mention Greg feels you can never be too safe?
Secure Your Network Access
We understand that not all homes are equipped for cybersecurity with the sudden switch to remote work. However, keep these tips in mind for your home network security:
Use a VPN (a virtual private network) whenever possible. This will keep your corporate network safe.
Avoid public WiFi networks. Please don't steal the neighbor's WiFi (see, Greg is right not to have an easily guessed password!). Joining a neighbor's network does not guarantee your security. When we are back to working in coffee shops, keep this in mind – public WiFi networks are not necessarily safe.
Beware of Phishing
It's a sad thing to address, but when we are vulnerable, the phishing scams begin. Cybersecurity experts will tell any remote worker to be overly cautious. There will inevitably be an increase in phishing and other social engineering attacks during this time. Never, ever click on a link that seems 'off' to you. EVER!
Never Mix Business With Pleasure
Under no circumstance are you to use your work computer for personal use. If you have been issued a work computer, then be sure you are not also using it to shop online. When you do that, you open the door to cyberattacks that could obtain your financial information, but also compromise your company's information. Oh, and don't even think of checking Facebook on there either!
Secure Email Attachments
If important documents are being transferred between remote coworkers or clients, make sure you are doing so securely. Never send/receive this information on an unsecured network, or, god forbid – a Gmail account. If you have access to encrypted email, then now is the time to put this to use and continue to do so even when you are back in the office.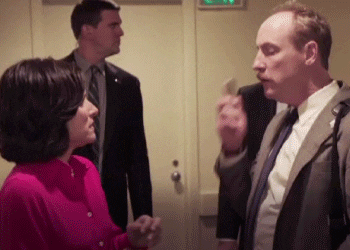 Summing Up
To sum it all up, cybersecurity is vital for all remote workers. Leah explored How To Work From Home Efficiently, and now we want to make sure you're secure when you do. Don't let the comfort of your home creep into being lax about the basic security measures you should already have in place to protect your information as well as your company's. Cybersecurity is a booming industry for a reason and it's during vulnerable times where we will see an uptick in security issues. Stay safe, everyone!
Do you have cybersecurity tips you'd like to share? Let us know in the comments below!
The following two tabs change content below.
Latest posts by Rachel Michaels (see all)